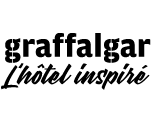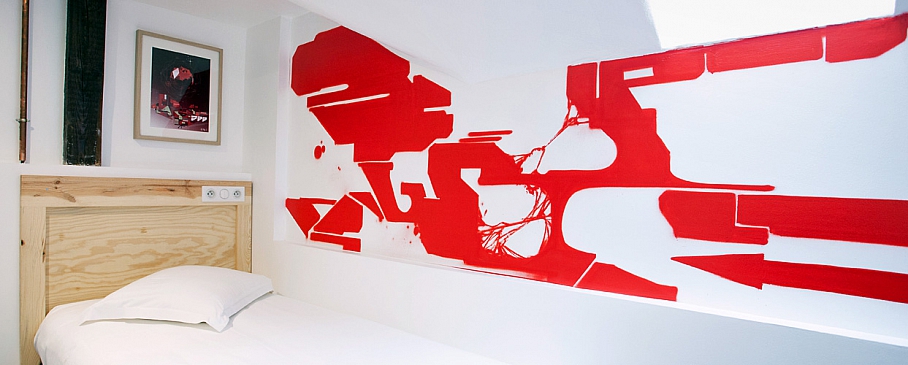 Room 407
Artist : JUPE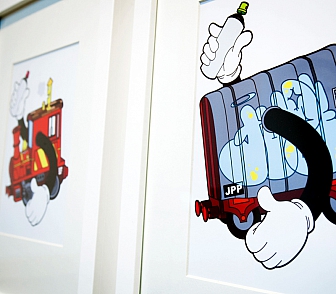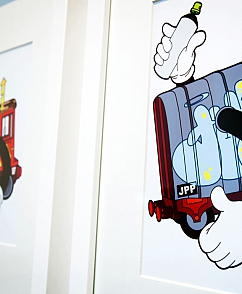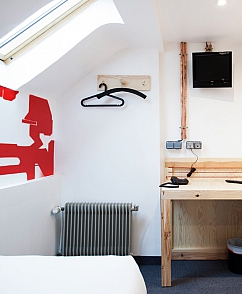 In addition to being gifted, Jupe is a polite boy. He is always ready to tag a wall in the street, but for his room at Graffalgar he tried to adapt his universe to the conventions of the inside by putting his works into frames... but he could not resist to tag the wall right in front of him.
It's been more than 17 years now since Jupe, writer from Strasbourg, started demonstrating his Retro Futuristic style which is different from classical graffiti.
American comic books, Transformers and classic gaming have made his work a singular cosmic universe populated with letters and geometric shapes.
THE RED ROOM
Starting at 80 €**
- 10 m²
- Courtyard
- 1 Single bed
- 1 person maximum
- TV
- Free WiFi
- Desk
- Walk-in shower
- Hair dryer
- Air conditioning: no
YOUR STAY
Number of person(s) : 1
Number of nights : 1
Rate : 80 € **
reloadpage
finalise
** Excluding special Christmas rates for nights from 27 November 2020 to 01 January 2021 included.
Hotel & Restaurant, 17 rue déserte, 67 000 Strasbourg - Bas Rhin Alsace (quartier gare) / Tél : +33 (0)3 88 24 98 40 / contact@graffalgar.com