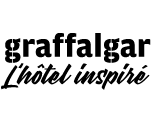 General terms and conditions and cancellation policy

Cancellation policy
There is no charge for changes or cancellations received at least one day prior to arrival.
In the case of changes or cancellations received later than one day prior to arrival and no-shows, you will be charged the full rate for one night (except in the case of special offers).
For the christmas market period (27th November to 24th December), the bookings placed from 1st November are non-refundable.


Children's services
The hotel may require a waiver of liability for minors.


Hotel rules and regulations
All of our rooms are NON-SMOKING.
You must sign the hotel's Rules and Regulations Form at check in.


Room rates and availability
We make every effort to assure that the information provided here (rates, availability, descriptions) is accurate;
however, it is for informational purposes only and may be modified at any time.
Hotel Graffalgar maintains the right to change reservations made on this site without advance notice.


Mentions légales

Enseigne commercial :
HOTEL GRAFFALGAR


Dénomination et raison sociale :
SARL HOTEL LE PETIT TRIANON
Siège social : 17 rue déserte, 67000 Strasbourg
Téléphone : 0388249840
Mail : contact@graffalgar.com
SIRET : 339 550 337 0001


Design & Production
This website is designed and developed by the Graphic studio Gwakamol


Web hosting
INFOMANIAK NETWORK SA
26 avenue de la Praille 1227 Carouge
Genève SUISSE


Privacy Policy
Any personal information gathered is for internal use only. Your personal information will not be shared with or sold to a third party under any circumstances. In accordance with the Data Protection Act of January 6, 1978, modified in 2004, you have the right to obtain, revise or delete personal information and you can exercise that right by contacting us at contact@graffalgar.com
** Excluding special Christmas rates for the nights of 22 November to 31 December 2019 included.
Hotel & Restaurant, 17 rue déserte, 67 000 Strasbourg - Bas Rhin Alsace (quartier gare) / Tél : +33 (0)3 88 24 98 40 / contact@graffalgar.com