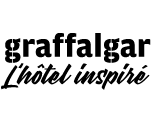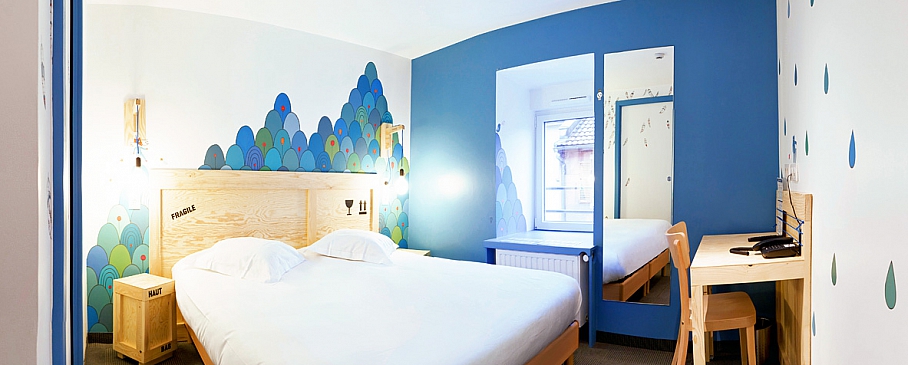 Room 304
Artist : Sophie ZAZZERONI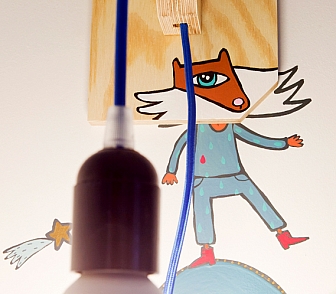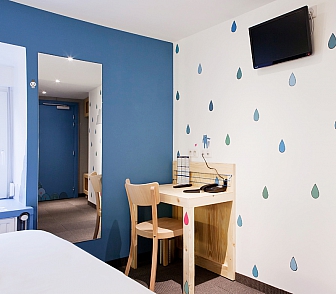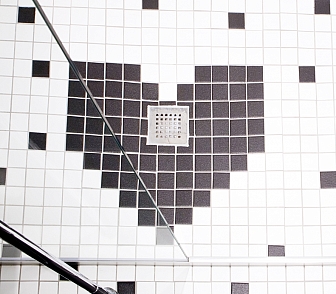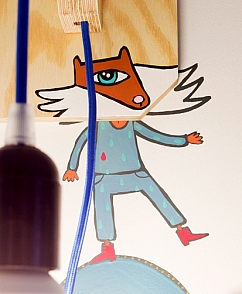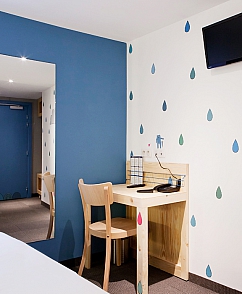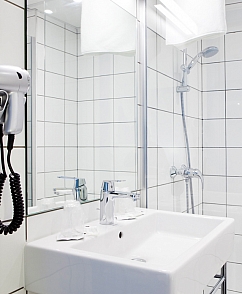 "I worked with patterns, using shades of blue and green,
to give an impression of lightness and ease in my room." Artist's note.
Painter/illustrator Sophie Zazzeroni invites us into a playful and poetic universe. Strange characters, animal and human, populate her imaginary world and appear in a variety of places: on paintings, murals, books, toys. From an often funny and off-beat perspective, she shines a joyful light on the world of children. Her drawings combine fine lines and bright colors and suggest stories.
Creating art in hospitals, she makes use of the physical constraints of spaces in order to escape from them. Flowers grow out of air vents, an octopus slides over an electrical outlet, a sheep and a mouse seesaw on the intercom. She makes clever use of the environment to weave connections, to invent stories that bring people together, but also to personalize spaces dedicated to children and identify them in a most original way. Patient rooms, waiting rooms, corridors and offices are taken over by a colony of animals. With sensitivity and humor, Sophie Zazzeroni takes charge of the environment, decompartmentalizes space and softens the stay for children and their parents.
SCALE-HILLS, FEATHERS AND RAIN
Starting at 100 €**
- 20 m²
- Streetside
- 1 Double bed (KINGSIZE)
- 2 persons maximum
- TV
- Free WiFi
- Desk
- Walk-in shower
- Hair dryer
- Air conditioning: no
YOUR STAY
Number of person(s) : 2
Number of nights : 1
Rate : 100 € **
reloadpage
finalise
** Excluding special Christmas rates for nights from 27 November 2020 to 01 January 2021 included.
Hotel & Restaurant, 17 rue déserte, 67 000 Strasbourg - Bas Rhin Alsace (quartier gare) / Tél : +33 (0)3 88 24 98 40 / contact@graffalgar.com