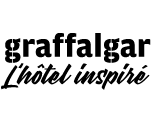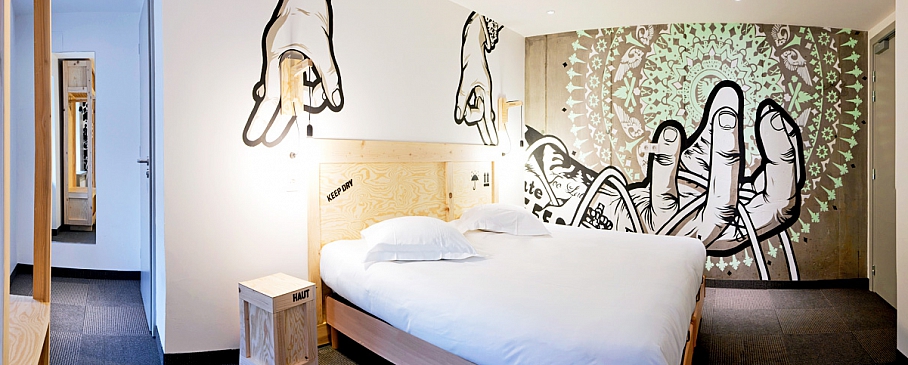 Room 301
Artist : CHIFUMI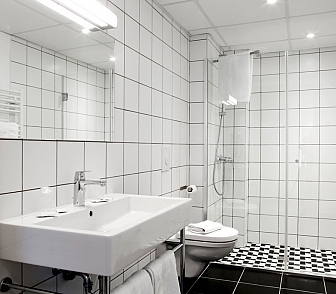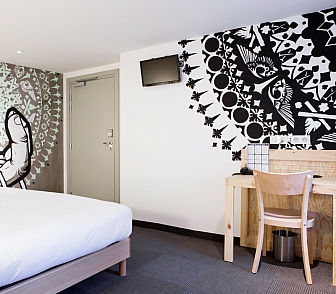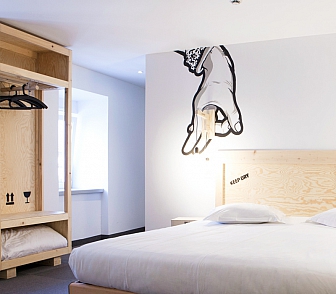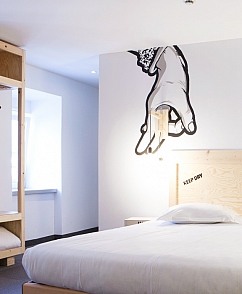 "The work I offer you today is the fruit of several years
of travel during which I made a point of really delving
into the cultures I encountered… from Indian Mandala
to Hells Angels or even symbols gleaned from Greek
and Roman churches." According to Chifumi
Experience a simple zen ambiance in this room created
by CHIFUMI, the most spiritual of the GraffArtistes.
Born in Kiev and raised in the Rhine valley, Chifumi's work is a systematic investigation of the code of laws and morals around him. Entirely inspired by his surroundings, he creates art in the street, on the body and in any abandoned spaces along the way.
«My creative process consists of wandering, meandering, following signs and my intuition. I like being free to turn any surface into art wherever I find myself.»
IT'S ALL FUN AND GAMES UNTIL SOMEONE GETS HURT
Starting at 100 €**
- 20 m²
- Streetside
- 1 Double bed (KINGSIZE)
- 2 persons maximum
- TV
- Free WiFi
- Desk
- Walk-in shower
- Hair dryer
- Air conditioning: no
YOUR STAY
Number of person(s) : 2
Number of nights : 1
Rate : 100 € **
reloadpage
finalise
** Excluding special Christmas rates for nights from 27 November 2020 to 01 January 2021 included.
Hotel & Restaurant, 17 rue déserte, 67 000 Strasbourg - Bas Rhin Alsace (quartier gare) / Tél : +33 (0)3 88 24 98 40 / contact@graffalgar.com