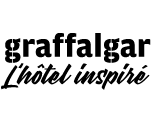 Room 201
Artist : ECLISSE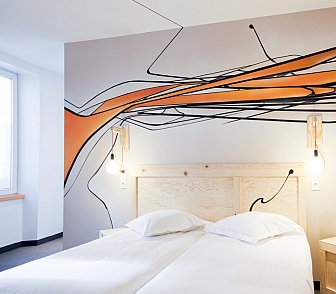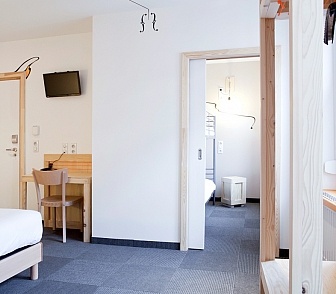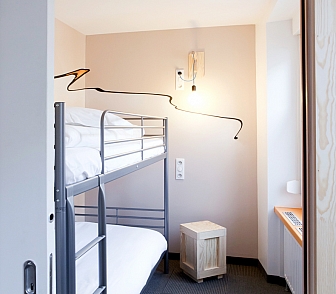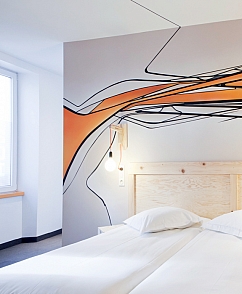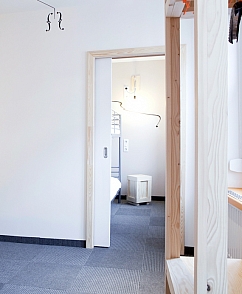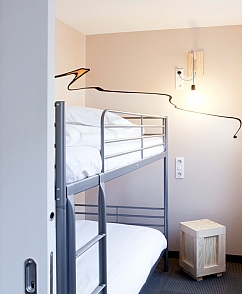 "Eclisse translates music into images. After listening over and over to a song she has chosen, she dissects
the structure and the melody. Then she tries to identify each instrument and transcribe the entirety in a graphic and pictoral manner usually with an "open format."
Thus was born the Artwork of Graffalger which is a graphic representation of "Gantz Graf" by Autechre.
Eclisse (Carole Renau), born in 1975, began her study of fine art at Beaux-Arts de Besançon. In addition to her formal studies, a drive to try as many techniques as possible took her very quickly off the beaten path and into the realm of graffiti, comic books, tattoo art and even theater (set design and decoration).
In 2001, armed with an eclectic scope of knowledge and techniques, Eclisse took on the job of head designer at the Paleo Festival in Nyon (Switzerland) which involved, among other things, the creation of graphic concepts for the performer's dressing rooms. Surrounded by designers, architects, technicians, painters, she had a fully stocked artistic laboratory at her disposal for ten years. The real turning point in her career came during this period with her discovery of the paint gun – a tool that allows the artist to fill large spaces and to refine the smallest details. It was also within this musical environment that she developed her grand «wall tattoos» or «environmental paintings» which take into account the architecture, angles and light of a given space.
MUSIC FOR THE EYES
Starting at 120 €**
- 25 m²
- Streetside
- 2 Single beds
- 2 Bunk beds
- 4 persons maximum
- TV
- Free WiFi
- Desk
- Walk-in shower
- Hair dryer
- air conditioning: no
YOUR STAY
This room is not available for this period
reloadpage
search
** Excluding special Christmas rates for the nights of 22 November to 31 December 2019 included.
Hotel & Restaurant, 17 rue déserte, 67 000 Strasbourg - Bas Rhin Alsace (quartier gare) / Tél : +33 (0)3 88 24 98 40 / contact@graffalgar.com