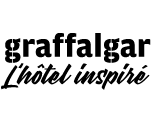 Room 101
Artist : MONSTA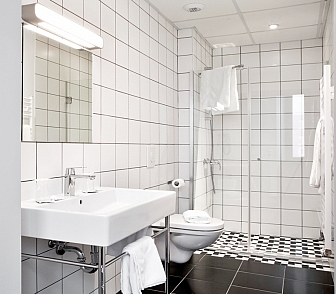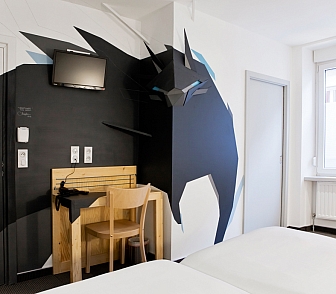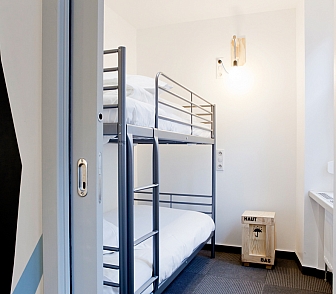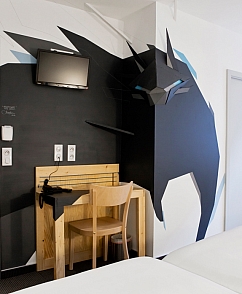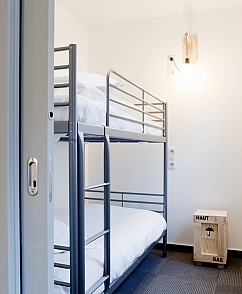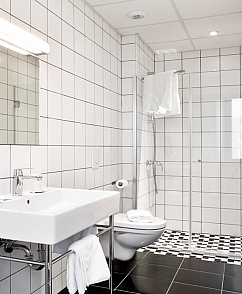 "I played with light and dark and tried to alter the lines
and spaces of the room. I wanted to enclose slumberers
in a fantasy world guarded by the creatures of dreams
and nightmares. Serenity and balance made possible
by opposing guardians of the night."
Monsta is a visual artist. After receiving a BTS degree in product design, a few years at the Fine Arts School of Saint-Etienne, and a stay in England, he has devoted himself completely to developing his own projects.
Since, he has questioned the ways we might flee our sad reality, searching for an escape by means of awakening our inner-child.
And so Monsta offers a dark and critical perspective on our society but also brings his touch of mockery and innocence. In his work, the imaginary world of a child appears. It is a realm of contrasts where play rubs shoulders with death, where monsters are as sweet as they are terrifying and where dreams and nightmares blend. Monsta expresses all of these contridictions in different ways, whether in drawing, painting, or three-dimensional work.
WELL GUARDED SLEEP
Starting at 120 €**
- 25 m²
- Streetside
- 2 Single beds
- 2 Bunk beds
- 4 People maximum
- TV
- Free WiFi
- Desk
- Walk-in shower
- Hair dryer
- air conditioning: no
YOUR STAY
Number of person(s) : 4
Number of nights : 1
Rate : 120 € **
reloadpage
finalise
** Excluding special Christmas rates for nights from 27 November 2020 to 01 January 2021 included.
Hotel & Restaurant, 17 rue déserte, 67 000 Strasbourg - Bas Rhin Alsace (quartier gare) / Tél : +33 (0)3 88 24 98 40 / contact@graffalgar.com