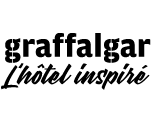 Due to the special circumstances related to the management of the health crisis (covid 19).
The Hotel is closed until further notice.

Graffateria is open for take-away
CULINARY ALERT! FOOD TO GO!
From Monday to Saturday, from 12 p.m. to 7 p.m., Miss Carole takes care of your lunch, to take away! Go to Graffalgar, we take care of the rest.
You can book by writing to us on our Facebook page, or by calling the hotel from 10 am on 03 88 24 98 40!
We also take orders on the spot.


** Excluding special Christmas rates for the nights of 22 November to 31 December 2019 included.
Hotel & Restaurant, 17 rue déserte, 67 000 Strasbourg - Bas Rhin Alsace (quartier gare) / Tél : +33 (0)3 88 24 98 40 / contact@graffalgar.com